With a dedicated and experienced team of individuals, combined with continual investment in the latest technology and stand building solutions, Love Expo has developed a reputation for providing its clients with first class exhibition and display products and services.
Innovation, quality and professionalism
Access Group:
"Love Expo pitched to us 18 months ago to supply us with a new modular exhibition stand that we could use over multiple events throughout the year.  We had already seen some of the stands that they had produced and installed for one of our competitors who we subsequently bought and so had first hand knowledge of the high quality of their stands and the service that they provide for the ongoing management of the stands – this ultimately gave us the confidence to invite Love Expo to tender for our own new exhibition stand.
I can safely say that Love Expo have exceeded our expectations and delivered on every aspect of every job they have done for us since producing and managing all our event stands this time last year.  They have been transparent with all their charges, the quality of the stand system they have supplied is exceptional and has given us the ability to adapt the stand to virtually every stand space we have booked and the ongoing support they have provided has been first class with great communication and honesty and integrity at all times.
I would have no hesitation in recommending Love Expo to anyone looking for a new modular exhibition stand solution and needing first class after sales support – they have and continue to be a pleasure to work with."
Robert Dale, Events Manager, Access Group
Love Expo partnered with Glasgows to create this design for Innovate UK.
Glasgows:
"Just want to say thanks to you and the team for everything during the weeks/months running up to the event and for the work on site.  The guys were really helpful, lending tools and helping me unload the van when I arrived! The stand looked great and the client was very pleased with how it all turned out."
Scott Laywood, Glasgows
"The stand looked fab as usual and was an especially effective design, the touch screen worked great!"
Alison, Innovate UK
Natural HR:
"Thank you for all your help with the CIPD event stand, it looked great and definitely stood out from the competition."
Chris Bourne, Natural HR
Any Stock Buyer:
"Just wanted to thank you and your team for a great show!!! You were spot on and the attention to detail on the stand was second to none.
I found the team at Love Expo went the extra mile and without any fuss – everything was drama free…you can really trust them to make the event a real show-stopper. Their service was perfect to a tee – last minute requests did not phase them and even our last minute request to change the arrangements of the breakdown on the final day was dealt with without any drama or a thousand emails – really easy guys to work with.  
The stand was stunning – much better than expected and a real sense of WOW!!"
Nasa Khan, Head of Purchasing, Any Stock Buyer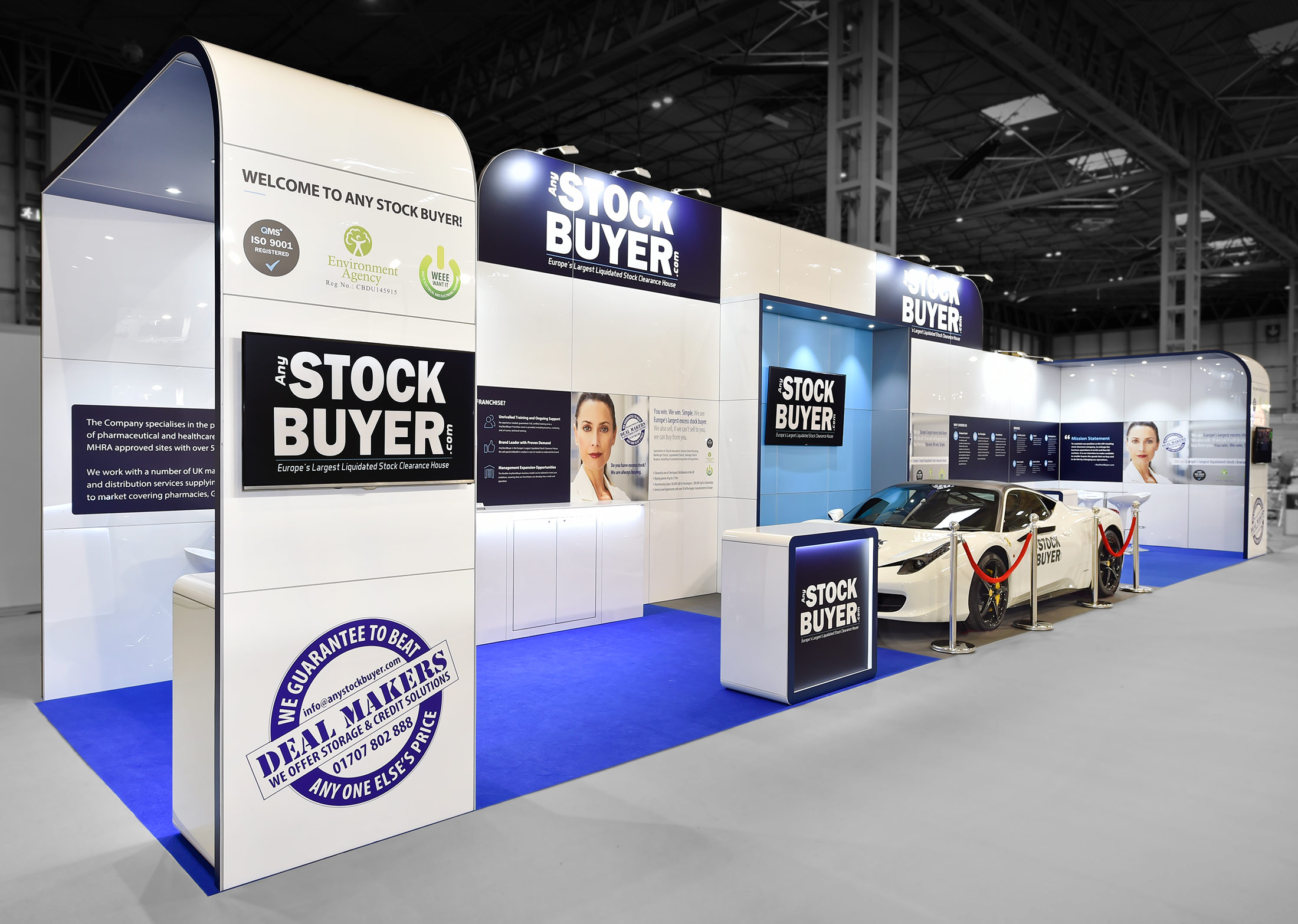 Workbooks:
"Workbooks looked at a few different suppliers to design and build our stand. We selected Love Expo due to their professional stand design, support and advice relating to the many aspects that go hand in hand with events.
The stand looked fantastic and many people commented about its design. We look forward to working with them again."
Cheryl Nichols, Senior Marketing Executive, Workbooks
Furncare:
"Thanks for all your work on the Furncare stand.  It looked great!"
Andy Griib, 
Parotec Solutions:
"A massive thank you to Love Expo for all the work on the stand for BETT. We had nothing but compliments all week. It looked amazing and really stood out. The service was perfect from start to finish!"
Gary Lilly, Director of Sales & Marketing, Parotec Solutions
Datagraphics:
"Overall the service was great and the stand looked amazing! We had lots of comments about how good the stand looked.
Events can always be stressful to organise and the team at LoveExpo really helped take care of the set up in the lead up to the event and also at the event. The stand builders were also very friendly and even worked around our boxes, which was very much appreciated!"
Jade Bradfield, Datagraphics
Futurium:
"The experience of working with Love Expo was very smooth – the team were always helpful, professional and delivered above expectations!
I have recommended Love Expo to other clients and will continue to do so.
We had many compliments about our stand – it really was a delight to work with the team."
Hayley Carpenter, Managing Director, Futurium
Radius Systems:
"Hi Guys, great feedback about the stand from everyone, was a total success, so well done to all involved especially on the short notice we all had." 
Tom Harte, Radius Systems
LG Energy Group:
"This is the second year we have used Love Expo to design and build our exhibition stand and yet again they did not disappoint. Using Love Expo's modular hire system allowed us to reuse our stand from last year with a slight tweak and still have a sleek, custom looking stand but without the typical custom price tag.
As an energy company it was great to use a stand system that not only looks high-tech and innovative but also has the added benefit of the green credentials that möbius offers."
Charlotte Kershaw, Office Manager, LG Energy
Maxim Industries:
6m x 4m stand for Maxim Industries – Subcon, Birmingham NEC.
"After a visit to their showroom, there was no doubt in my mind that Love Expo would be the best company to supply our stand and after receiving the stand designs it wasn't hard to convince the Directors and they were on board straight away.
The stand certainly had the impact we desired, turning heads and gathering attention simply because of the way the stand looked! I would have no hesitations in recommending Love Expo to anyone exhibiting in any type of show."
Claire Sheils, Marketing Exec, Maxim Industries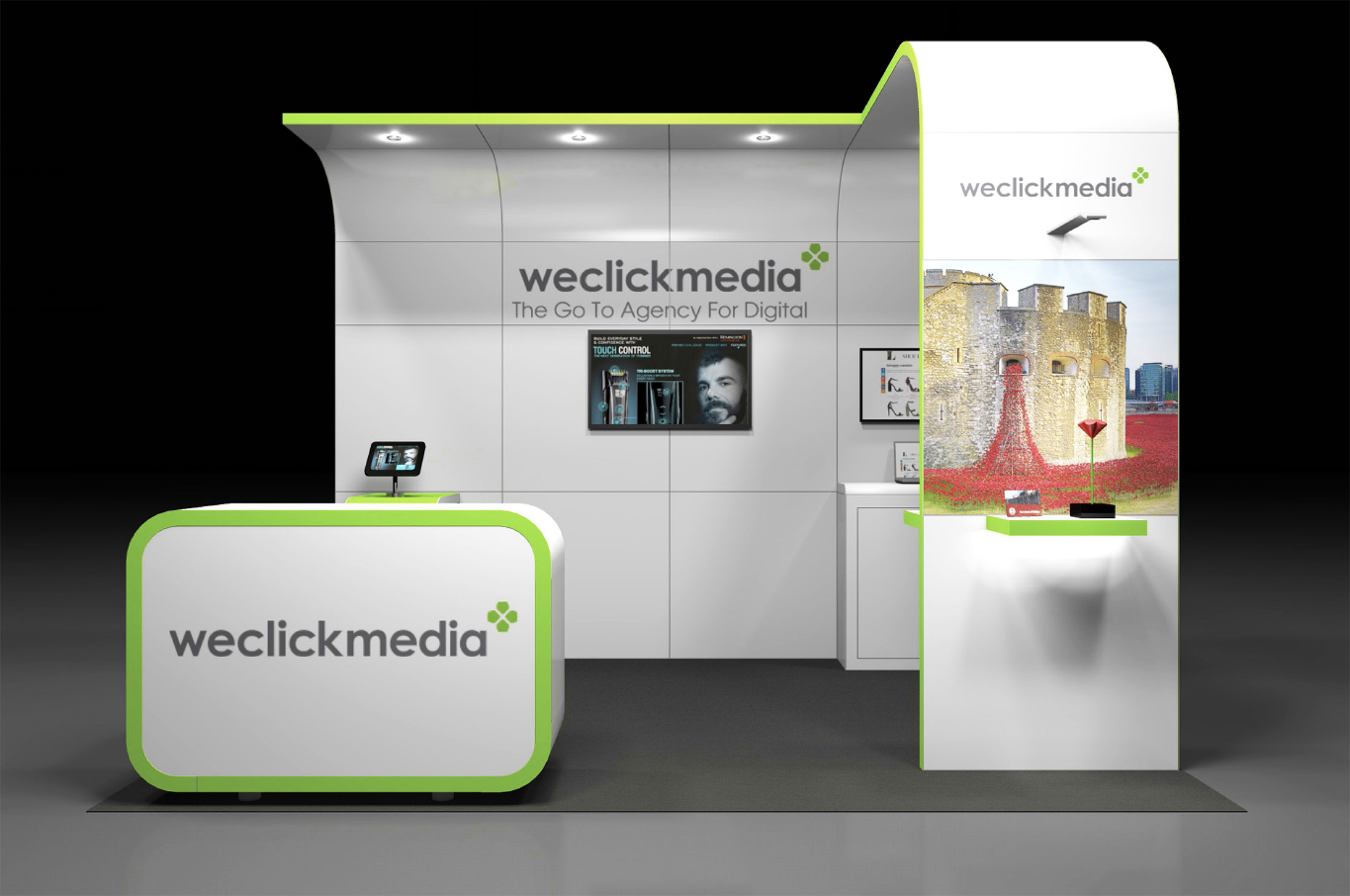 WeClick Media:
"The stand looked amazing and was a class above all the other stands at the show so we're all really happy – thanks for all your efforts and great service."
Stefan Bonczoszek, Strategy & Business Development Manager, WeClick Media
One Box – Ferring:
"A brilliant service from the guys at Love Expo.
They took on all the challenges of the brief and managed to produce an outstanding stand that proved very successful for my client."
David Langdon, Managing Director, One Box – Ferring
Accelerus:
5m x 7m Accelerus at Autmechanika NEC 2016.
"It was a great show thanks to your wonderful design and build services. The feedback from the client and the visitors was very positive. We will want to use the stand again at the same show next year!"
Nick Band, Berlin Consultancy, Accelerus
Career Builder:
"The stand design presented by Love Expo was turned around quickly and not only looked aesthetically fantastic but was really well thought through. The functionality behind our stand design gave us the ability to provide a great visitor journey, which allowed us to professionally present our software to visitors to our stand, which was our main objective for the show.
The exhibition build and dismantle ran seamlessly, allowing our team to just turn up on show day to a fantastic looking stand, focus on our strategy for the exhibition and then leave at the end of the day safe in the knowledge that everything was taken care of.
Without sounding cliche we would recommend Love Expo to any company looking to exhibit!"
Don Wong, Senior Director of Marketing EMEA, Career Builder
Natural HR:
"A fantastic stand from a great team – can't recommend Love Expo highly enough! Thanks from everyone at Natural HR and look forward to working together again next year"
Jason Dowzell, CEO, Natural HR
Tech Data:
"Love Expo's service was outstanding. From planning to execution they took the lead all the way through offering an excellent service and looking after every single detail at every stage, before and after the show. Everyone in our Company were very impressed with the end results and with no doubt we will work with Love Expo again."
Angelica New, Senior Marketing Exec, Tech Data Global Computing Components
Velden Engineeering:
"We were absolutely thrilled with the stand. We received so many compliments throughout the show and the service we received from both David and Mike and the rest of the Love Expo team was excellent."
Susan Smith, Marketing Manager, Velden Engineering (UK) Ltd
Renovotec:
"The Renovotec brand is key to our business, so we needed a stand that would effectively promote it for us at exhibitions and reflect our professionalism. The ExpoForm800 was ideal, providing a sleek, quality seamless graphic wall as a backdrop, with integrated functionality to keep the finished stand looking clean, uncluttered and practical. 
We received professional in-depth guidance, advice and service from Love Expo and look forward to working with them on future projects."
Richard Gilliard, Managing Director, Renovotec
NorthernCare:
"The stand is easy to assemble, portable and versatile. Our customers and even competitors have commented upon how striking our new stand looks and it has certainly given us the edge we wanted our trade shows."
Francis Ashcroft, NorthernCare
SchoolBlazer:
"We unpacked our ExpoForm800 stand this week and were blown away by the quality of its design and construction. It's easy to assemble, light and efficient to transport and looks amazing. What's more the team at LoveExpo could not have been more helpful.
We've had a number of different exhibition display systems over the years but this stands out  – our only regret is that we didn't find them before!"
Tim James, Co-Founder, SchoolBlazer
Forepoint – BAE Marine Systems:
"Love Expo were an integral part of our production process in delivering a multi-functioning and flexible exhibition system for one of our valued clients, BAE Systems Submarines.  Our challenge was to provide BAE Systems with a solution that was fit-for-purpose, cost-effective and produced within a 3-week window.  The deadline was met, we loved the final product and more importantly, the client was very happy indeed, another great job produced by Love Expo for Forepoint."
Steve Gill, Director, Forepoint
Browse our FREE exhibition success guides
Our essential FREE guides are designed to help you get the best results from your exhibitions.
Request your FREE stand design and quote for your next exhibition stand